Why Hydronic Towel Warmers are a brilliant Bathroom choice
Hydronic Towel Warmers: The Benefits
Hydronic towel warmers have seen a sharp increase in popularity over recent years and this current trend seems to be continuing. And even a brief insight into the many advantages a towel warmer provides makes it easy to understand why they have taken such a significant chunk out of the heating market over the course of the past few years. An overview of heating towel rails accurately portrays them as an efficient means for the warming of towels and the bathroom area on the whole, whilst boasting standout aesthetics that are sure to enhance the appearance of any space. And perhaps more than any other bathroom accessory or fixture, a heated towel bar can add a touch of luxury designer class to a space, helping it to achieve the aura of a spa-like facility or environment.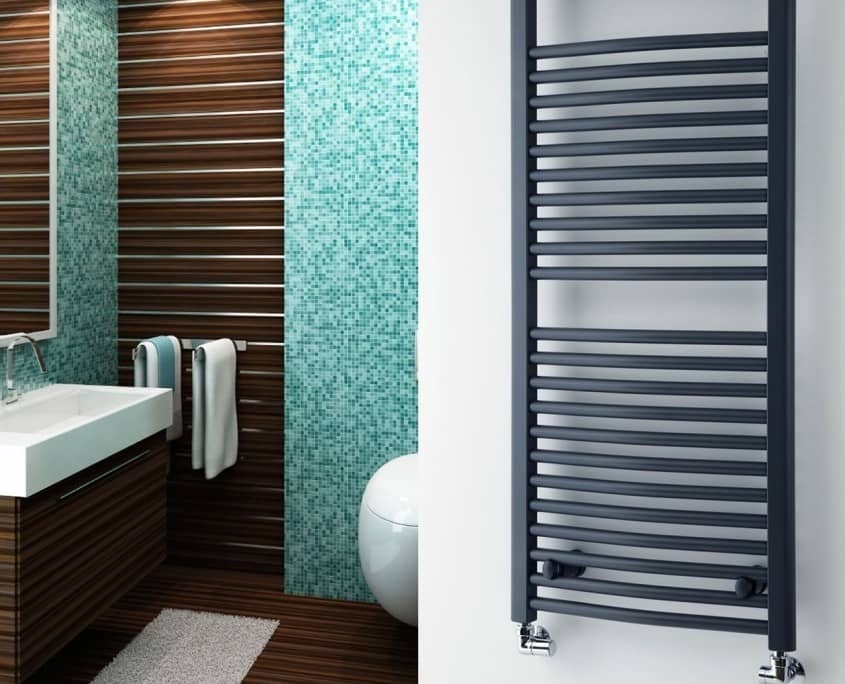 Versatile Towel Dryer Options
A hydronic towel warmer or towel dryer is one of the most versatile bathroom heating options available, considering that they will offer a variety of functions within a single, stylish component. As well as delivering a constant rotation of toasty warm towels to wrap up in after a shower or bath, heated towel racks also offer a convenient, easily accessible location to store washcloths or towels due to their typically sleek, space-saving design. Furthermore, your chosen hydronic towel warmer will provide and preserve a warm, comfortable temperature spread all throughout the bathroom.
Towel warmers also come supplied in a wide variety of attractive styles and incorporate a range of attractive finishes, so that regardless of the look of your existing bathroom decor, you'll be able to find an option that will suit it. For instance, fans of modern design will have a plethora of hydronic towel warmers to choose from – plenty of newer components sport an impressive understated appearance, with a polished chrome finish another feature of the very latest towel racks on the market. This type of towel dryer can definitely add a sense of glamor and elegance to a bathroom, as can more traditional heating towel rails, which will appeal to those of a vintage taste. A brilliant choice of towel warmers fall into the traditional category, with many models inspired by the Victorian era, and including period design elements and a radiator insert.
Different Types of Hydronic Towel Warmers
We've discussed the basic functionality of hydronic towel warmers and that they can prove a viable, cheaper, radiator alternative. But when shopping for a heated towel bar, one of the most important factors to consider is its basic type. Standard towel warmers require a connection to the central heating system to operate, meaning that your whole home heating needs to be switched on even if you want to warm the bathroom only. Electric towel radiators, on the other hand, source energy from a household electrical system, allowing you to heat your bathroom in isolation if you would prefer. As such, whilst electric towel radiators may require a bigger initial financial layout, they can help you save money over time by trimming your home energy bills. Dual fuel systems work in the same way as electric towel warmers, and also offer obvious advantages compared to their standard counterparts, as their heftier price tag would suggest.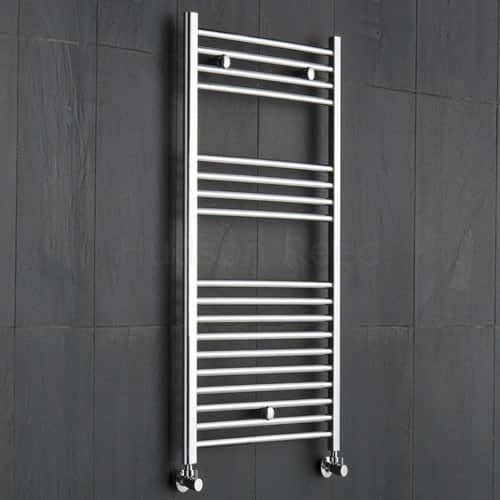 Affordable Hydronic Towel Warmer Designs
And whilst prices contrast for different types of hydronic towel warmers, the overall growing demand for them has seen most designs become affordable to everyone. Within reason, heated towel rails are available to suit any budget, without consumers having to compromise on quality or style.
That said, you'll need to strongly consider the overall style of your hydronic towel warmer, with so many contrasting designs on offer in an array of shapes, colors and sizes. Depending on available space and personal preference, you can decide between modern or traditional towel warmers in freestanding or wall mountable horizontal and vertical designs, whilst there is also an impressive choice of different finishes to think about. Chrome towel warmers are popular options, with polished brass and satin nickel other prominent finishes. Some newer towel rack models incorporate an ultra-modern element in the form of an illuminated power switch.
Heated towel bars can also form a mutually beneficial relationship with other bathroom accessories, with each complementing the other in terms of both aesthetics and practicality. Bathrobe hooks and wall-mount kits are two examples of minor bathroom details that will improve the look and performance of many hydronic towel warmer designs.
Main Advantages of a Towel Warmer
With all the virtues of a towel warmer extolled, we can list the main advantages that their installation provides on a basic level. Firstly, luxurious warm and toasty towels are a clear benefit, as well as the added storage space they offer for clothes and the like, and their general profile as an effective extra heat source. Furthermore, heating towel rails are suitable for use at any time in the year for the drying of as many towels and face cloths as their design will allow. Electric towel warmers are especially suited for use in the warmer months, given their ability to exclusively heat the bathroom rather than the entire home. And considering that a regular rotation of used towels is likely, the presence of a heated towel rack will ensure against a pile-up of wet towels and washcloths, and stop your bathroom from developing an unwanted odour such as the smell of mildew.
https://wpcdn.usa.hudsonreed.com/info/blog/wp-content/uploads/2014/01/htra050120c_lifestyle_1.jpg?strip=all&lossy=1&quality=70&ssl=1
1019
1399
John Klee
https://usa.hudsonreed.com/info/blog/wp-content/uploads/2018/04/hr-blog-logo-300x138.png
John Klee
2017-07-11 04:16:47
2018-11-23 05:13:47
Why Hydronic Towel Warmers are a brilliant Bathroom choice