Cast Iron Radiators: What To Know
With so many different types of radiators already on the market, and several more continuously emerging, it can be a difficult and time-consuming process to identify the perfect option for your home. But sometimes, keeping it simple is the best idea, and with cast iron radiators, you can add a sense of classic designer appeal without compromising whatsoever in terms of functionality and performance. In this article, we'll aim to explain everything you need to know about cast iron radiators, and why the traditional option may be the ideal choice to enhance your bathroom, kitchen, lounge or any other area of your home.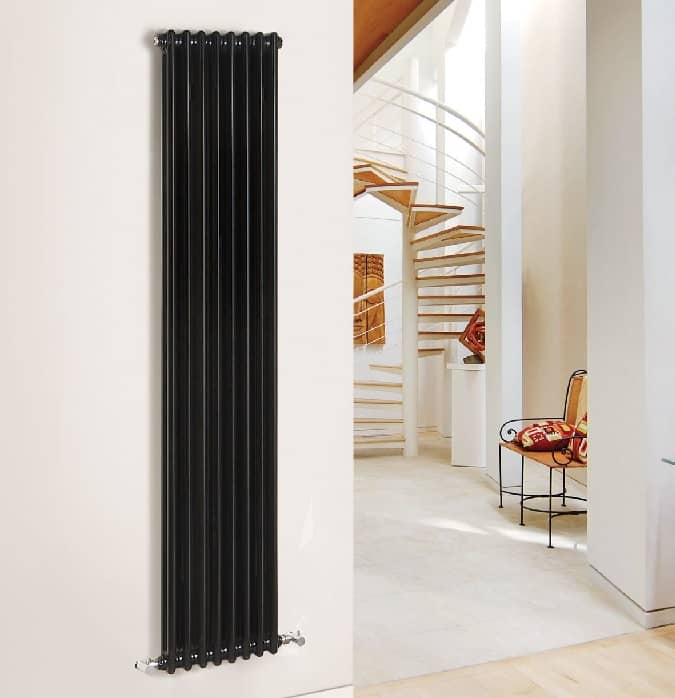 Add Traditional Style with a Cast Iron Radiator
Despite representing the oldest style of radiator available, cast iron components arguably boast the greatest staying power of all, remaining some of the most fashionable designs on the market even now. Victorian-style hot water radiators are a particularly popular choice purely from an aesthetical point of view, but if you are lucky enough to find your perfect reclaimed version, it will most likely need to be restored. Also, it can sometimes prove difficult to get an accurate read on the heat output of older, more vintage radiators, and to notice any small chips, dents and leaks they may have. You'll need to be particularly wary of this, and be sure to inspect closely and thoroughly, if investing in a cast iron radiator from a second-hand source. It may be best to alternatively search water radiators online, where you'll discover a wide variety of cast iron options accompanied by performance guarantees and extensive warranties.
Impressive Heat Outputs from Cast Iron Radiators
Although they may take a little while longer to properly get going, cast iron radiators deliver an excellent heat output when they do so, and can provide an impressive distribution of warmth across the entire surface area of a room. If your home radiators are constructed from cast iron, it is advisable to switch them on well before you want your room to be heated, but they can also be turned off quicker whilst still offering respectable warmth. Supplying a strong level of consistent heat for the full room as opposed to the short, quick burst that other types may offer, cast iron radiators are a perfect choice for older properties, as they can insulate the fabric of the house itself. Furthermore, with cast iron radiators delivering a spread of warmth throughout an entire room, and the heat being sustained for much longer than it would be with their stainless steel counterparts, for example, they place far less strain on your boiler when heated. As such, these efficient performance capabilities can help you enjoy notable savings on energy bills. Use our BTU Calculator for guidance on choosing an appropriate radiator for your home.
Meanwhile, it is a wise idea to make use of a 'timed' setting when selecting a cast iron radiator, and choosing a midday heating period is perhaps the smartest move. In doing so, you can reduce the evening's lengthy warming up time significantly, so you can enjoy a cosy, inviting environment almost immediately after a long and stressful day at work.
The Right Rooms for a Cast Iron Radiator
Of course, such an outstanding heat output as that provided by cast iron radiators is far from a necessity in every space, and could actually be quite uncomfortable in some circumstances. Therefore, it is imperative to carefully consider which rooms are right for a cast iron radiator, and take a number of factors into account prior to installation.
Different rooms require different levels of heat, with the likes of the lounge or living area, bathroom and dining room typically needing higher heat outputs than the kitchen or bedroom, for instance. The direction your room faces also impacts your choice, with spaces that point north requiring a great deal more heat than south-facing rooms. Other elements, such as whether or not an area features double glazed windows, will also play a part in dictating how many BTUs are required, and therefore which type of hot water radiators are best suited to a particular room.
Cast iron radiators can often incorporate a bigger, bulkier design than some of their counterparts, so perhaps more than any other type of heating solution, their exact placement should be closely scrutinized. Though arguably best suited to larger spaces, the only real rule to adhere to when positioning cast iron radiators is to avoid placing them next to doors or below windows. This helps to ensure that heat doesn't simply quickly escape from the room.
For the best results, you should measure the exact size of your space to determine a perfect heat output. From there, you can select the appropriate type of water radiator to meet your specific needs. If your budget allows for it, you might even be able to secure home radiators bespoke to your chosen area. For example, a cast iron radiator for the bathroom could be designed to the correct scale and style to fit perfectly underneath a bathroom vanity unit, sink or any other fixture.
And finally, the style and existing decor of your room will surely influence whether or not a cast iron radiator is a suitable choice, or whether you'll be choosing from a wide variety of other water radiators. Cast iron radiators probably mesh better with traditional style surroundings as a general rule, but with a range of striking colorful finishes available, certain components can also prove well suited to modern areas. Our guide on where to position your radiator can help you identify an ideal installation location too. Hudson Reed USA offer a wide selection of top quality cast iron radiators sure to enhance your chosen space.
https://wpcdn.usa.hudsonreed.com/info/blog/wp-content/uploads/2017/08/castironblacktradvertical.jpg?strip=all&lossy=1&quality=70&ssl=1
698
675
John Klee
https://usa.hudsonreed.com/info/blog/wp-content/uploads/2018/04/hr-blog-logo-300x138.png
John Klee
2017-08-04 03:37:42
2019-08-02 09:54:32
Cast Iron Radiators: What To Know