What makes Towel Warmers perfect for a modern bathroom?
Towel Warmers: What To Know
When fitting a new bathroom or renovating an existing space, there are plenty of decisions to be made, not least regarding the right types of fixtures to include. And whilst they may have been considered an unaffordable luxury item once upon a time, towel warmers are one feature that you really can't go wrong with in the current climate – they're rapidly becoming a bathroom essential, and one which is increasingly available at a great value cost. Even a basic overview of a towel warmer paints it as an incredibly appealing option; they not only help to keep towels toasty warm and dry, but also distribute warmth throughout the bathroom, all in the form of a stylish rack or rail that will enhance the appearance of your space.

What will a Towel Warmer bring to your Bathroom?
Functionality
Of course, we'll further elaborate on the specific virtues of towel warmers throughout this article, but it makes sense to begin with the most obvious of elements that they provide – the heat! A heated towel warmer can prove a far cheaper alternative to a radiator, supplying an even spread of warmth across the entire bathroom, though standard components require a connection to the central heating system to work. As such, the heating would need to be switched on even if you only wanted to warm your bathroom. There is a plethora of electric towel warmers and dual fuel systems on the market which only make use of your household electrical system, however, allowing you to heat your bathroom in isolation. You'll really appreciate the effects during the colder winter months, especially as the bathroom will typically be the first room you'll enter in the morning. You can use our BTU Calculator to gain an idea of which towel warmers will provide a suitable level of heat for your specific space.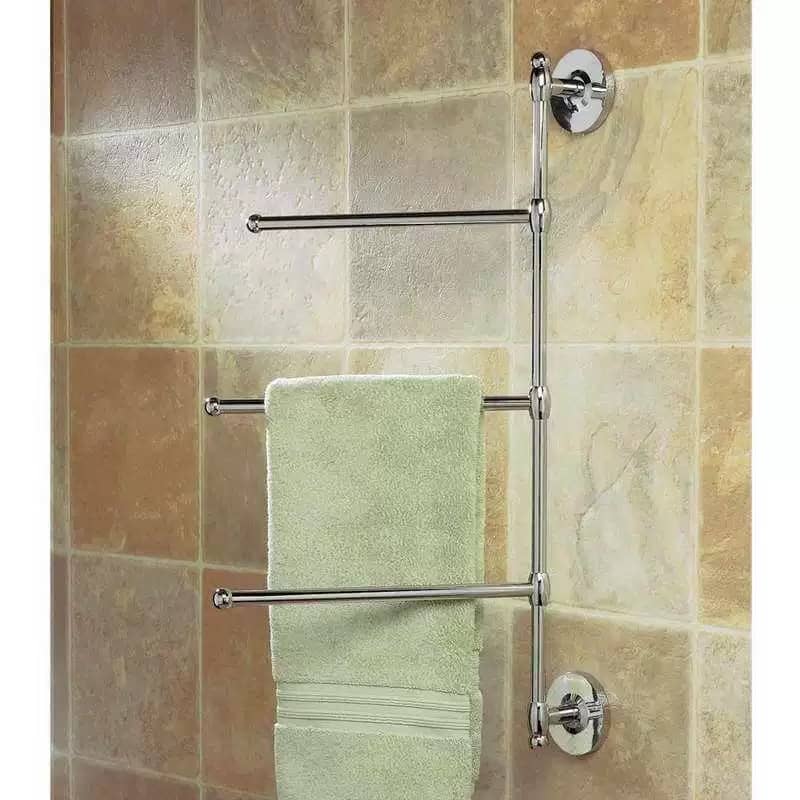 And the extra drying space that a towel warmer provides should also be recognized as a huge benefit. The likes of power-sapping radiators and washing lines (weather dependent) have their obvious drawbacks as a means for drying clothes, but even if you still use them predominantly, it can be difficult to complete an entire set of washing using these methods only. Heated towel rails offer vital additional drying space for clothes, of course providing that they aren't already full with towels!
Style
Meanwhile, aside from the practicality of towel warmers in delivering heat and extra drying and storage space to a bathroom, their installation also brings clear aesthetic advantages with it. Heated towel racks are available in a wide choice of shapes, sizes and unique horizontal and vertical designs, so you can select the perfect option to enhance your existing layout and décor – they tend to incorporate a sleek, contemporary appearance that is sure to give a brand new feel to your space. That is the case even with traditional towel warmers. Loops, spirals, ladders, coils and rings are just some of the impressive features associated with modern designer towel warmers meanwhile, which can also help to maximize bathroom space, especially in comparison with other heating solutions.
The finish of your towel warmer is another important element to consider in terms of adding eye-catching style to your bathroom, with chrome emerging as an absolutely fail-safe option for contemporary areas. Further to its classy appearance, the durability of chrome adds to its appeal, and ensures your towel warmer will maintain both its look and performance level for years to come. Striking white and black finishes are notable popular alternatives, and undoubtedly offer a standout sense of designer flair, though are arguably less versatile than chrome towel warmers, and suited to specific types and colors of décor only.
 Making a Valuable Towel Warmer Choice
Although towel warmers on the whole are a far more affordable proposition than ever before, you still need to think carefully to ensure you get the very best value from your choice. You should definitely take running costs into consideration, and if deciding that they'll stretch your budget, explore dual fuel towel racks, electric towel warmers, or a towel warmer that can be used in conjunction with an electric heating element. These types of towel rails usefully allow you to heat the bathroom individually, but if that isn't a chief concern, nor potentially bigger heating bills, you can take your pick from any of the huge range of towel warmers available to enhance your bathroom.
https://wpcdn.usa.hudsonreed.com/info/blog/wp-content/uploads/2017/06/towelwarmergreentowel.jpg?strip=all&lossy=1&quality=70&ssl=1
800
800
John Klee
https://usa.hudsonreed.com/info/blog/wp-content/uploads/2018/04/hr-blog-logo-300x138.png
John Klee
2017-06-22 10:34:32
2018-11-23 09:18:03
What makes Towel Warmers perfect for a modern bathroom?