The addition of a kitchen faucet can provide a simple yet very effective way to update the look and enhance the functionality of your kitchen area. And with such a great array of designs on the market, you'll need to tread carefully in selecting the perfect option that will have the biggest impact on your space. In this article, we'll offer some top tips with regards to the unique features of each type of kitchen sink faucet, which will help point you in the right direction to make a well researched, informed decision.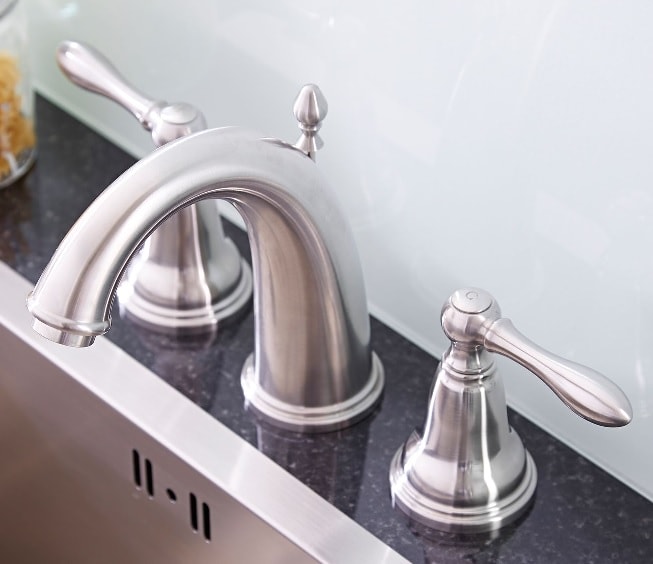 Selecting a Kitchen Faucet with the right functionality
When looking at how to replace a kitchen faucet, or at simply investing in a brand new component, many people will initially base their search purely on looks. But whilst appearance is undoubtedly an important element, what good is your faucet if it doesn't have the correct functionality to operate to full effect in your kitchen? First and foremost then, you should think about the specific features and functions of your prospective kitchen faucets to ensure they match up with your specific preferences and requirements.
It is likely, especially for those residing in a family household, that the kitchen is one of the most used rooms in the home, so it is certainly in your best interests to select a faucet that suits your lifestyle needs. For example, consider how tall you are and whether you are right or left handed as a basic starting point. You'll also need to think about what type of meals you usually cook, if you typically cook alone or with company, and whether you use your kitchen for any other purposes such as entertaining guests. By considering seemingly minute details like these, you'll lay the appropriate foundations to make a sensible choice for your needs – then you can start to think about style! Modern kitchen faucets tend to be defined by their technological properties and the way in which they operate, as our look into the following styles attests.
Touch Control Kitchen Faucets
The very most contemporary type of kitchen faucet, those incorporating touch technology, are ever growing in popularity. These styles of faucets offer easy usability, operational via a simple touch to switch them on and off, with most designs including an LED light to indicate their status. At the forefront of innovation, you can find a wall mount kitchen faucet with touch technology as well as standard freestanding designs. And whilst both kinds are currently available at relatively premium prices, they can prove a good long-term investment, given that they greatly conserve water by activating flow only when absolutely necessary. Touch control kitchen faucets are typically simple to install, and as they usually work on battery power, can be added without the need for an electrician.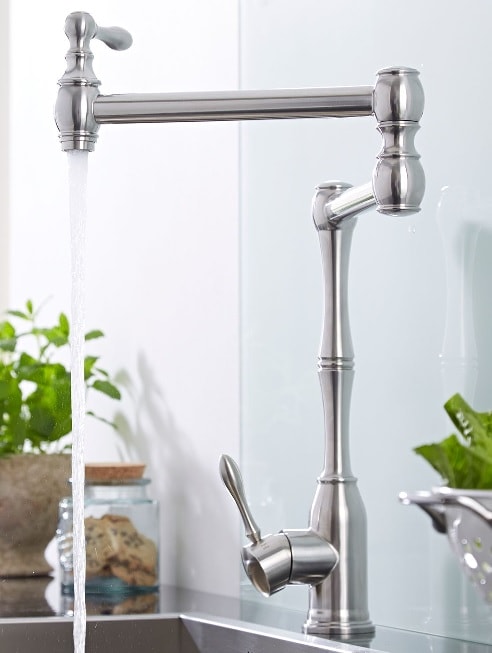 Pull-Down & Pull-Out Spray Kitchen Faucets
Perhaps the most convenient options for the preparation of meals and for cleaning up after the fact, pull-down and pull-out kitchen faucets incorporate a separate spray feature which distinguishes them from traditional faucets. Between the two types, pull-down faucets tend to offer a higher spout and greater flexibility in terms of flow; spray, stream and a flow pause are delivered by different pull-down faucets, with controls in-built into the spray attachments for ease of use. By contrast, one of the biggest criticisms of pull-downs is their more complicated profile in comparison with a standard faucet – they need to accommodate a flexible hose and hold the spray head securely in place when not in use. That said, manufacturers have more recently accounted for these factors, with pull-down faucets now usually designed to avoid the issue of slipping shower heads.
Pull-out kitchen faucets typically offer a shorter spout height but a slightly larger moveable head section. That added size makes these sort of faucets a little bit larger in the hand, allowing a fuller and more comfortable grip, which is a favorable prospect for many.
Single-Handle Kitchen Faucets
If you're looking to maximize space in your kitchen sink area, and thus limit the amount of kitchen faucet parts present, then a single-handle faucet could well be your preferred option – their design allows for both water temperature and volume to be controlled by a single lever. Representing one of the first widespread modern faucet advancements, these kind of kitchen faucets offer simple functionality and minimalistic, stylish aesthetics. They're also widely available in an impressive variety of contemporary and traditional designs.
Two-Handle Kitchen Faucets
And for those looking for the ultimate in terms of a classic kitchen faucet, a two-handle design is likely the best choice. Whilst unable to match up to its counterparts for speed and efficiency, the reliability and attractive design of these faucet types provides balance against those negatives. Again, two-handle kitchen faucets aren't restricted to areas with traditional decor; they are increasingly available in an array of attractive modern designs with many different handle types that are both stylish and simple to use.
For a complete insight into kitchen faucets, and a closer look at some inspirational options to consider for your home, be sure to check out our Ultimate Guide to Kitchen Faucets.
https://wpcdn.usa.hudsonreed.com/info/blog/wp-content/uploads/2017/09/kf1.jpg?strip=all&lossy=1&quality=100&ssl=1
1212
1000
John Klee
https://wpcdn.usa.hudsonreed.com/info/blog/wp-content/uploads/2018/04/hr-blog-logo-300x138.png
John Klee
2017-09-21 09:54:33
2019-06-04 09:17:43
Top Tips to find the perfect Kitchen Faucets for your Home