10 Timeless Bathroom Color Ideas
Are you keen to add a splash of color to your bathroom space? Perhaps you are, but are far from certain which shades will mesh well with each other. You could be concerned whether your choden bathroom color scheme will stand the test of time? From simple chic bathroom color options to loud, in-your-face suggestions, there are timeless bathroom color ideas to suit all tastes.
Selecting a Bathroom Color Scheme
In comparison with other rooms in the home, selecting a color scheme for the bathroom can prove a much bigger headache. This is due, in part, to the several different fixtures and fittings you will be hoping to complement. There's flooring, towels, bath mats, shower systems and bathtubs to consider. Also, furniture such as bathroom vanities could be present, so you'll want these to be enhanced by your chosen color scheme too.
You need to think about the way you want your bathroom to look and feel when assessing the best paint for bathrooms. A vital factor in your decision will be how much natural light is allowed into the space.
A small bathroom area doesn't restrict you to sticking with light or white colors. These can often have the opposite effect you are looking to achieve – making the room look lifeless and dull. Stronger, eye-catching colors are a better choice to create a unique appearance. Compact bathrooms or en-suites with little natural light offer the ideal chance to experiment with a daring shade. For a dramatic effect and intimate look, choose a warm, strong color.
To make sure you identify a timeless hue, it is a high Hudson Reed USA recommendation to use one of the enduring combinations mentioned in this article. They'll remain in vogue and enhance your bathroom for many a year to come.
When properly done, gray bathrooms offer an overriding aura of chic sophistication. There is a plethora of gray paint colors available. Each of these contrast superbly with brighter bathroom fixtures and accessories colors such as pink and green. A calm and relaxing ambience usually emanates from gray bathrooms. Exactly how it should be in probably the most used room in the home.
The addition of gray bathroom furniture is a great way to test the waters in terms of introducing this calming hue to your bathroom space. Gray vanity units and similarly colored mirrored cabinets will add modern flair. Anthracite radiators and towel warmers are other options to consider.
Another option is to select a particularly dark shade of gray for the walls, allowing other colors to really stick out. Obviously, if your bathroom design requires, then gray tiles are an alternative solution. Glossy, light gray tiles will deliver an ambient feel, with dark gray slate effect tiles providing a natural aroma. A slate effect shower tray is a tempting extra in keeping with the natural theme as well. All in all there's plenty of gray bathroom ideas that can help transform the look and feel of the space.
2. Neutral and Mocha Hues
Although a simple choice, neutral bathroom color schemes are sure to stand the test of time over a long period. And whilst they perhaps won't stand out as much as alternative options, they will give a warm and inviting feel to the bathroom. There is also plenty of freedom afforded by deciding on such a bathroom color scheme. Experimentation with lighter and darker tones is possible.
Mocha hues mesh well with creamy white coloring. You could spend an age dreaming up colors that go with brown, but other espresso-inspired shades can be layered in to add depth in this instance. Using blocks of color is an attractive approach to adopt to create added interest in some areas – surrounding the bathtub for instance. If creamy white doesn't take your fancy, you can select a more striking shade of white instead, and set it alongside a warm, rich mocha.
Resist any temptation to use bright, bold colors when adopting this subtle scheme – the contrast would not look pretty.
Possibly the most obvious color scheme choice in terms of being timelessly fail-safe. Black and white color combinations drew immense interest when Art Deco was all the rage. To replicate a design that will still prove as stylish today as it did in that era, you could accentuate black and white tiling with chrome fittings and a silver-lined mirror. To create a real standout style statement, select a spectacular floor pattern and dramatic wall decor. For instance, opt for white tiles on the bottom half of the walls, with contrasting black paint around the higher portions.
Keep the look simple but stylish by choosing matching black and white bathroom accessories. Or, for a slightly busier appearance, introduce colored towels – but don't overdo it and make the space look too crowded and uncoordinated.
You know what it is? Blue and yellow, blue and yellow, blue and yellow, blue and yellow.
Sorry, enough with the rapping, but a blue and yellow color scheme will really add a bright and cheerful aura to your bathroom space. If a cooler feel is your preference, ocean or sky blue are worthy options as a main color choice, with yellow complementary touches. If you're looking to introduce a warmer vibe, go with yellow as the main color accentuated by blue tones.
Avoid going too far with yellow hues as it can prove an overwhelming color if overdone, particularly for a compact bathroom space. The simple addition of some mosaic tiles to a specific area can create an attractive focal point. Shower walls and freestanding bathtub backdrops are prime candidates for such an inclusion.
An earthy green shade can deliver an organic vibe to a bathroom area. A perfect option for a classic bathroom, earthy green tones can be teamed with off white touches to bring a sense of calm to the space. Earthy green is also brilliant for softening hectic patterns too.
There are all sorts of earthy green hues to consider, from pale and calming shades to darker, luxurious tones. There are many colors that go with mint green, and several options on the dark side too. Which end of the scale you land on will depend on what sort of ambience you're trying to achieve with the space.
Although incorporating a sense of vintage appeal, copper tones are an increasingly popular interior trend for modern and traditional bathrooms alike. The likes of lighting, brassware and accessories are all good choices with which to introduce copper to the space. Or, for an absolute standout bathroom centerpiece, you could opt for a copper freestanding bathtub.
The versatility of copper is another big plus point. It will match up with pretty much any color scheme, working especially well alongside black, gray, teal and dark blue hues. By adding copper to a bathroom, you immediately create an intimately intriguing aura. It is also an excellent choice to soften an industrial look. Alternative textures such as brick and marble can provide an attractive contrast to copper.
The combination of blush pink and gray is ideal to foster a soft, chic appearance that will always remain in vogue. Either is a fine selection as a main shade, and the same sentiment applies to the accentuating tones. One way to influence your bathroom with the colors would be to introduce predominantly gray furniture such as vanity units. These could adorn a space littered with similarly colored tiles and a heated towel warmer. Meanwhile, blush pink accessories, bath mats and towels can offer a supreme supporting element.
This color scheme is equally well suited to modern and traditional bathrooms, whether compact or spacious.
A prominent and popular bathroom color choice for decades, the timeless credentials of duck egg blue shades are obvious. Another option perfect for softening up the area, duck egg blue tones will bring an undoubted sense of tranquility to any bathroom. As such, they're essential shortlist material in any discussion surrounding the best bathroom paint.
For a warm and welcoming bathroom with a 'nice and easy' vibe, combine duck egg blue with pastel shades.
Black and white color schemes have already been discussed – but what about using them as separate entities? The absolute most popular bathroom color choice overall. White is an ideal option to create a fresh, clean look and works just as well in both modern and vintage style bathroom areas. Considering the popularity of white colors, there are more white bathroom fixtures and fittings available to buy than any other color. White bathroom tiles are supplied in a variety of textures and designs. There are also toilets, bathtubs, vanity units and bathroom sinks available in an impressive choice of shapes and styles. In terms of heating solutions, there's the possibility to invest in white designer radiators or white towel warmers.
If you're worried about an all-white bathroom seeming too cold, there's plenty of bathroom paint colors that can complement it as the dominant shade. Add pops of bright color, or use pastel tones to retain a more subtle vibe.
By opting for black as the dominant color, you can make a massive bathroom style statement. Certain to stand the test of time, a black bathroom denotes desirable sophistication. A black color scheme will enhance both contemporary and classic bathrooms and add a touch of drama to the area. To really ramp up that factors, select black luxury faucets, furniture, tiles and towel warmers or designer radiators. An ultra-modern black shower panel is another stunning feature option. A black freestanding bathtub or shower enclosure can add an extra sense of pizazz if they fall within your budget and space restrictions too.
Contemporary Contrast Bathroom Color Schemes
Complementary contrast bathroom color schemes contain two opposite colors which work well together. Orange and blue is one such example. Just a small splash of bright orange will instantly catch the eye in a light blue bathroom area. Red and green, and purple and yellow are other complementary contrast bathroom color schemes to consider. One of the most vital aspects to pay attention to with these more unusual bathroom painting ideas is the placement of the respective colors. You need to make absolutely sure that the scheme flows well, and doesn't just look like a random mish mash.
One cool color and one warm color combine to create a complementary bathroom color scheme. Reds, yellows and oranges are warm bathroom colors, with purples, greens and blues considered cool.
A look at the included color wheel can provide you with some brilliant bathroom paint ideas for contrast bathroom color schemes. A good way to go about identifying a color choice is to select a main color from the wheel, and then look to the shade positioned exactly opposite. You can pick one dominant color and another to accentuate the space. It is also possible to combine different shades of the same color if you so desire.
The Best Paint for Bathrooms
Paint that can tolerate high moisture levels is the best paint for bathrooms. This type of bathroom paint offers better durability than standard paint. It is also better equipped to effectively handle condensation and steam. Search for bathroom paint with anti-microbial additives. They'll offer better resistance to mildew and mold.
Of course, while bathroom paint ideas are most prominent, there are other ways to add color to your bathroom area. Towels, accessories and bath mats are all means for delivering color to a bathroom.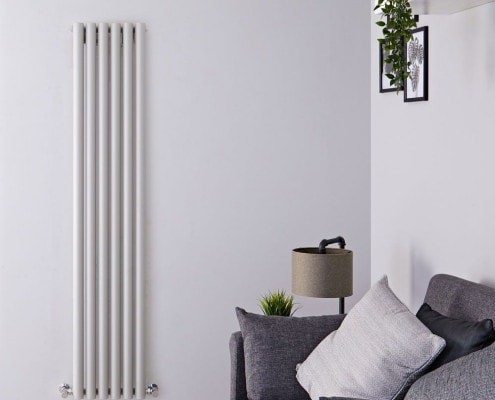 https://wpcdn.usa.hudsonreed.com/info/blog/wp-content/uploads/2019/12/savysilverradvertical.jpg?strip=all&lossy=1&quality=100&ssl=1
1000
1000
John Klee
https://wpcdn.usa.hudsonreed.com/info/blog/wp-content/uploads/2018/04/hr-blog-logo-300x138.png
John Klee
2020-01-14 10:48:15
2020-01-14 10:48:15
Frequently Asked Radiator Questions Answered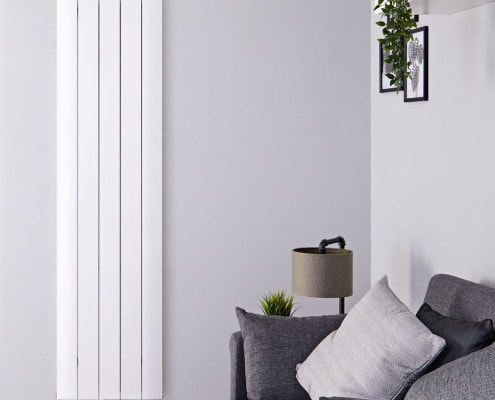 https://wpcdn.usa.hudsonreed.com/info/blog/wp-content/uploads/2019/11/aurorawhitealuminumverticalrad.jpg?strip=all&lossy=1&quality=100&ssl=1
1000
1000
John Klee
https://wpcdn.usa.hudsonreed.com/info/blog/wp-content/uploads/2018/04/hr-blog-logo-300x138.png
John Klee
2020-01-13 07:02:15
2020-01-13 07:02:15
How to remove Convector Radiators for Decorating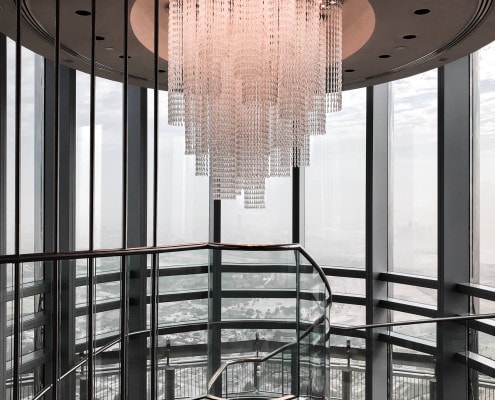 https://wpcdn.usa.hudsonreed.com/info/blog/wp-content/uploads/2019/12/modernchandelier.jpeg?strip=all&lossy=1&quality=100&ssl=1
2250
1688
John Klee
https://wpcdn.usa.hudsonreed.com/info/blog/wp-content/uploads/2018/04/hr-blog-logo-300x138.png
John Klee
2020-01-08 03:50:59
2020-01-08 03:50:59
10 Easy Ways to Improve your Home Appearance