A quick glance at a contemporary shower panel details their overriding style. And that is a factor that has contributed to their rapid popularity rise over the course of the past few years. But as well as impressive aesthetics, there are many reasons that shower panels are a fantastic choice to modernize your bathroom. This article will aim to explain the several advantages that shower panels provide. We'll also look at the best fits for when it comes to enhancing the look of your bathroom.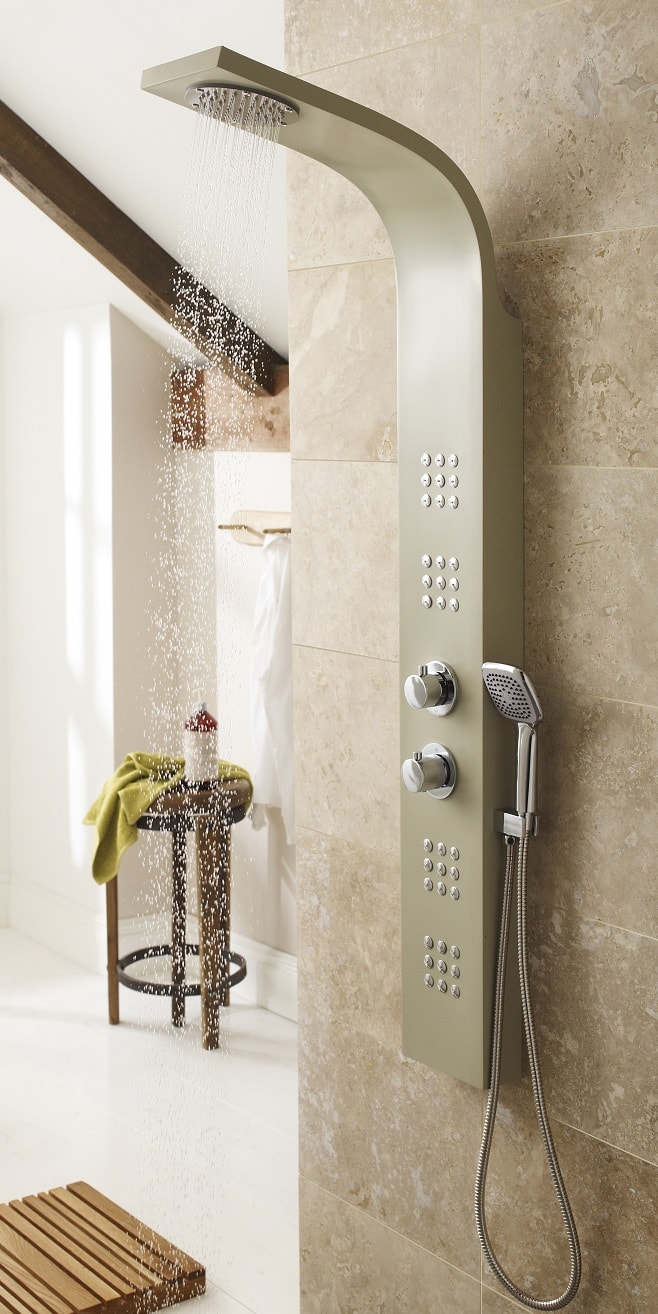 Saving Space with a Full Body Shower Panel
A huge benefit of a full body shower panel is that space is maximized within your shower enclosure. This is considering their wall mounted design, and that they incorporate multiple features in one component. Featuring an integrated shower head, shower panels also negate the need for an extra shower arm attachment. They'll cause very little disruption to an existing space. They can be very easily installed in any bathroom or wet room. And shower towers are an ideal choice for smaller bathrooms or en-suites especially. Their longer shape will also play a large part in further opening up your space.
That said, you aren't just restricted to enhancing a bathroom space with a shower panel. A choice of shower panels are available within our outdoor shower collection. For a better insight into these designs, and everything else you need to know about outdoor showers, check out our Ultimate Guide to Outdoor Showers.
Or, for a full insight into all things shower systems, check out our Ultimate Guide to Showers, Buyer's Guide to Shower Systems and Ultimate Guide to Shower Panels.
Jet Shower Panels in all Sizes and Styles
There is an extremely extensive selection of shower jets on the market. Such a wide range of shower panels are available, that you can be sure to find an ideal option for your enclosure. Several different types, sizes, styles and designs are on offer to bring out the best in your bathroom. Chrome-finished shower panels are immensely popular. They're sure to match up with contemporary chrome bathroom accessories and fixtures. Modern shower panels include a range of different features and effects too. The likes of digital displays, massaging body jets and rainfall shower heads are included among this. Your budget is just one of the many factors that will influence which type of jet shower panel you opt for. And what sort of state-of-the-art features it incorporates.
Repairing and Replacing Shower Panels
In the event of your shower panel becoming worn down or damaged, you can easily repair or replace them. This negates the need for major changes to be made to your surrounding bathroom decor. One of the best aspects of shower panels is that they have no special installation requirements. You can usually mount your shower tower to the wall by yourself. Again, in the eventual circumstance that your panel does need updating or upgrading, you won't need to worry about how to replace it. Nor spiralling costs for hiring a professional to install your component.
Easy Cleaning for your chosen Shower Faucets
Another great benefit of shower faucets is the absolute ease with which they can be cleaned. All you need is water and a soft cloth to complete an effective cleanse. Simply wipe down your shower panel to have it looking sparkling brand new again. For maintenance, durability and longevity, clean your shower panels multiple times weekly. This will help you avoid any build-up of limescale and mold. By doing so, you can guarantee that your shower faucet will retain its shine and stay clean for as long as possible.
Shower Panels suited to all Bathrooms
Shower panels are a great choice for any kind of bathroom, and can be
comfortably
fit into any space. That includes more compact areas. Especially the likes of our Ascot Stainless Steel Thermostatic Shower Panel. 
With shower panels now much more affordable, they can
be considered
a
really
desirable
purchase
for homeowners
. That notion applies regardless of their budget or bathroom size.
Of course, those operating on a more stringent budget could
initially
purchase
a basic shower panel
. There is then the possibility to upgrade to a newer, feature-laden version at a later date. Something like our Hale White Aluminum Thermostatic Shower Panel, for instance.
The elegant aesthetics and superb functionality of shower panels makes them an ideal addition to any bathroom
.
https://wpcdn.usa.hudsonreed.com/info/blog/wp-content/uploads/2014/01/AS361-Genie-Shower-Panel-rain-LS.jpg?strip=all&lossy=1&quality=100&ssl=1
1015
1199
John Klee
https://wpcdn.usa.hudsonreed.com/info/blog/wp-content/uploads/2018/04/hr-blog-logo-300x138.png
John Klee
2017-08-22 04:07:08
2019-08-02 09:46:09
Why choose Shower Panels to modernize your Bathroom?