Nowadays, the online marketplace offers a massive variety of contemporary shower systems. It shouldn't be difficult to find an appropriate option to deliver style and functionality to your space. But shower systems usually represent a significant investment, too. So choosing the right one is not a decision to be taken lightly. Here, we'll help you to understand the ideal type of shower to enhance your home. One that can provide a refreshing, enjoyable showering experience and impressive aesthetics. In particular, the virtues of 3 outlet shower systems will be championed. Also, the many associated benefits that can make them a perfect choice for your bathroom.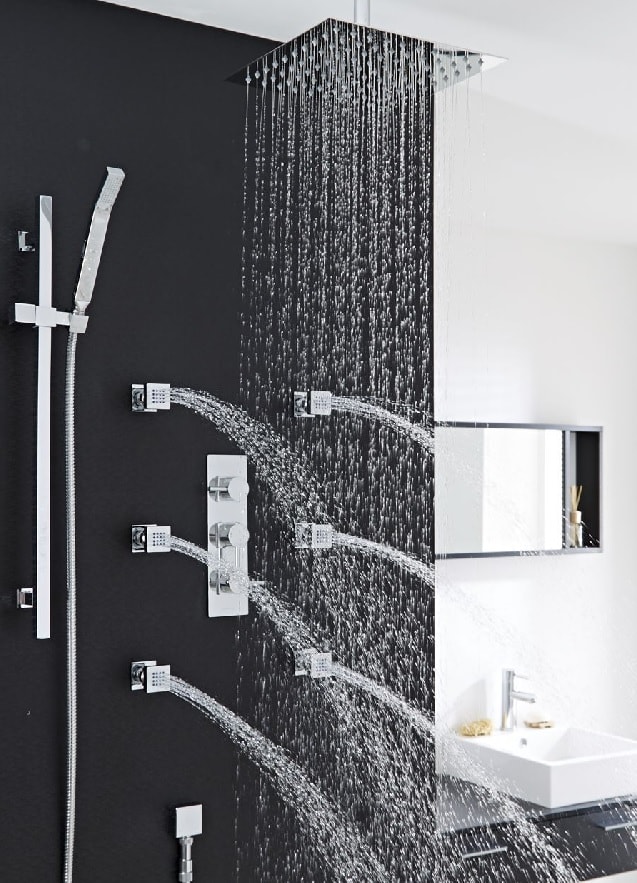 Finding a Shower System to match your Bathroom Layout
When shopping for a shower system, the very first thing to consider is the layout of your bathroom. Even
just
to see which kind of shower it can
comfortably
accommodate. The size of the space is the most crucial factor to think about. You'll likely be looking to populate a shower enclosure.
But for anyone hoping to upgrade a freestanding tub/shower combination system, a stand-alone exposed shower system is the obvious choice
. These single shower faucets can also
be incorporated
within smaller enclosures. They will
perhaps
appear dwarfed in larger enclosure areas though. Multiple-outlet systems are
surely
a better option for spaces such as these.
And those who enjoy longer showers will
probably
prefer a two or three-outlet thermostatic shower system
.
This would allow you to enjoy
numerous
water streams and provide more flexible control of water flow and temperature
.
You aren't solely restricted to upgrading your bathroom with a 3-outlet shower system either. You can find three-outlet options within Hudson Reed USA's
outdoor shower range
as well. For more information on those, and all things outdoor showers, be sure to check out our
Ultimate Guide to Outdoor Showers
.
Weird and Wonderful Water Jets
So, we've established that multi-outlet shower systems suit the needs of those favoring longer showers
. But the type of water jets you choose can also contribute to a more enjoyable
overall
experience. More than ever, shower systems incorporate a weird and wonderful choice of water jets. The likes of rain shower systems are
unsurprisingly
very popular. And to create the aura of a luxurious, spa-like bathroom, it is tough to argue that a rain shower system is not ideal.
In searching for a prime three outlet shower system for a larger space, you could look to options with a sizeable rainfall shower head
.
In terms of
aesthetics, modern shower panels are the only models that
really
rival these sort of systems
. Rainfall jets and water flows are customary for
a number of
newer shower panel designs.
Why to opt for a Thermostatic Shower System
Whether you opt for a one, two or three-outlet shower, selecting a thermostatic shower system is always a good idea
. Especially so for family households in which children may have to use the shower. Thermostatic systems are safer than their counterparts as they deliver a consistent temperature. So all users can avoid the shock of a scalding or freezing experience. Furthermore, thermostatic shower systems tend to be compatible with any water system. So their versatility
in terms of
the homes they can
be installed
in is a positive.
And as another example of their versatility, thermostatic showers incorporate
numerous
different designs.
Many options feature a thermostatic bar valve for the control of water temperature and flow
. Within a 3 outlet shower system, the water can travel from the valve via a rigid riser to the shower head.
Alternatively
, it can travel through a shower hose onto a slide rail kit. This will
be positioned
to alter the height of the shower.
In addition
, thermostatic piping can usually
be concealed by
the walls.
So a three-outlet thermostatic shower system can provide a far neater, uncluttered look than you may expect with so many components
.
Covering all bases with a 3 Outlet Shower System
A 3 outlet shower system can deliver everything you want and need within your shower. So if your shower enclosure incorporates adequate space, a three-outlet system is surely the best choice. Each 3 outlet shower system from Hudson Reed USA is supplied complete with a fixed shower head and handset. They also come with body jets and sprays or a tub faucet, so you can find a specific system to match your exact preferences. An added bonus is their availability in both modern and traditional styles. This makes three outlet shower systems well suited to almost any type of decor, whether contemporary or classic themed.
For an in-depth look at one of our most popular modern three-outlet systems, check out our Under the Spotlight: Arcadia Thermostatic Shower System blog article.
https://wpcdn.usa.hudsonreed.com/info/blog/wp-content/uploads/2017/09/spray3outlet.jpg?strip=all&lossy=1&quality=100&ssl=1
883
637
John Klee
https://wpcdn.usa.hudsonreed.com/info/blog/wp-content/uploads/2018/04/hr-blog-logo-300x138.png
John Klee
2017-09-15 06:51:49
2019-07-23 06:49:48
What makes a 3 Outlet Shower System perfect for your Bathroom?