Before committing to the purchase of a modern bathroom sink, there are several factors to thoroughly consider, not least the many different styles available. The bathroom sink is amongst the most vital fixtures in a property, and with that said, homeowners should fully understand the differences between conventional and more contemporary designs, and appreciate the nuances of the individual sink they are thinking about buying. Thankfully, Hudson Reed are on hand to help you better understand what modern bathroom sinks are and how they differentiate from their conventional counterparts, outline the different types of modern bathroom sinks, and the variety of materials they consist of. From there, you'll hopefully gain the best idea possible of which style of modern bathroom sink is best suited to your house.
What are Modern Bathroom Sinks?
Modern bathroom sinks tend to exude an obvious sense of contemporary verve, and as their moniker would suggest, typically match up well with modern bathroom spaces. When you think about it, your bathroom sink is the most frequently used fixture in your entire home, which underlines the importance of selecting a practical and reliable basin. However, the aesthetic appearance of your bathroom sink is crucial too, with the addition or upgrade of this particular fixture having a massive effect on your overall bathroom look. Providing you make the right sink choice, you can complement the appearance of your entire space, and perhaps even utilize your sink as a focal point if you can find a particularly stylish design. You shouldn't struggle to find a modern bathroom sink that enhances your bathroom in terms of both looks and functionality – there are a plethora of options on the market in a wide range of sizes, shapes, colors and materials – corner bathroom sinks and bathroom pedestal sinks are just two examples of bathroom sink ideas that can work in most spaces. Narrowing it down and choosing the right one is the most difficult part!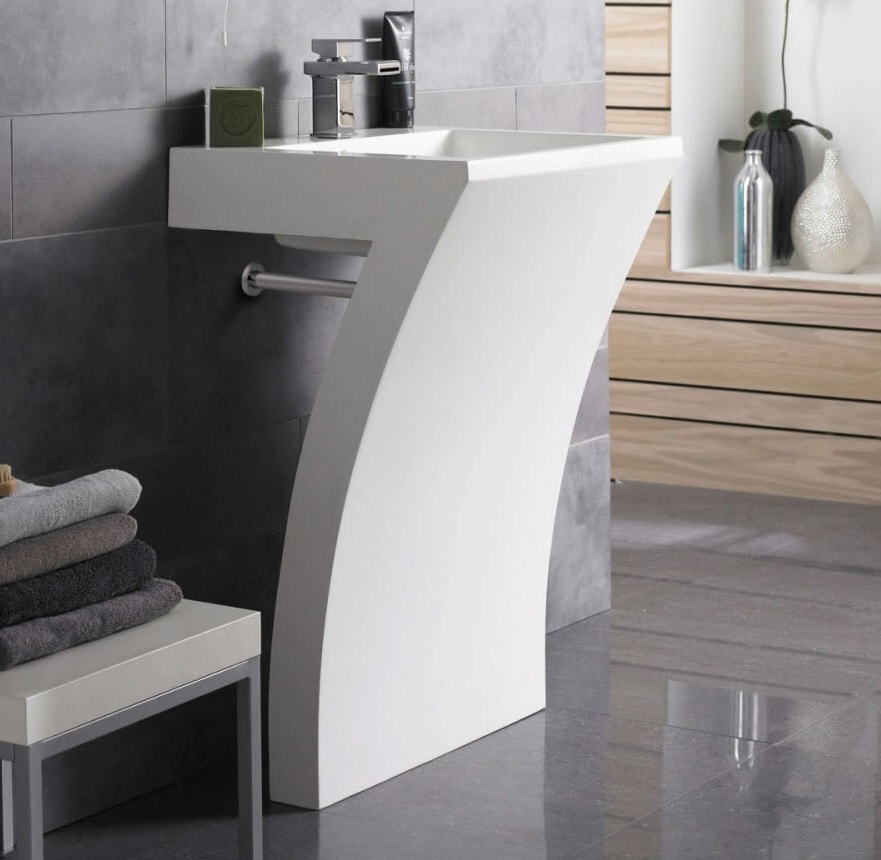 What are the different main types of Modern Bathroom Sinks?
Console Sinks – This type of modern bathroom sink is fitted into small table tops, which feature brackets and legs for support. In the main, console sinks can be correctly defined as a decorative or ornamental bathroom sink, perfect for vintage-decor bathrooms. Amongst the most popular examples of console sinks are vessel sinks with table tops, which are frequently found in contemporary bathrooms. The sink's unenclosed design will provide any bathroom with a sense of expansive space, but for those requiring an area to place their bathroom essentials, other storage solutions such as bathroom vanities would be needed.
Pedestal Sinks – These sort of sinks offer great versatility with regards to their compatibility with an existing bathroom look, considering the vast array of sizes and shapes on the market. Typically standing in between 34 and 36 inches in height, bathroom pedestal sinks can be positioned to appear taller if placed atop a custom-built platform. They are perhaps most ideally suited to retro style bathrooms.
Vanity Sinks – These sinks are embedded on a counter top, and include an added closed storage facility beneath them, ideal for housing toothpastes, gels, aftershaves and any other essential toiletries.
Wall Mounted Sinks – As suggested by the name of these sinks, their design simply allows for them to be mounted on the wall or hung at an appropriate level for your needs. This type of sink is ideal for use in a compact bathroom.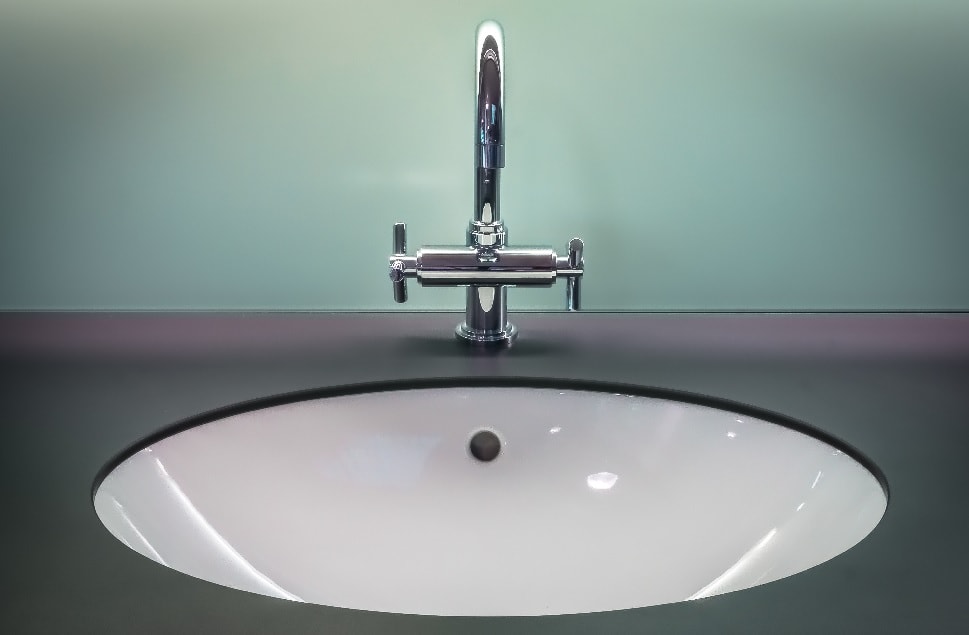 Popular materials for Modern Bathroom Sinks
Porcelain – This material can be painted, and thus colored and patterned, in line with your preferred design.
Glass – This is the perfect material to use if you are hoping to achieve a truly ultra-modern look. Sleek and contemporary aesthetics are always associated with modern glass bathroom sinks.
Amongst the other main types of materials used for modern bathroom sinks are copper, chrome, brass, stainless steel and stone, each of which can provide a bathroom with a unique, standout look. Obviously, you should select the modern bathroom sink that best suits the style of its surrounding decor and other fixtures, also ensuring you don't compromise with regards to practicality or quality.
And if you need a hand in search of the right accompanying bathroom sink faucets, Hudson Reed USA can help too. Explore our Ultimate Guide to Tub Faucets for a closer look at a wide selection of bathroom faucets and their merits. Or, for a better insight into every available type, take a look at our Ultimate Guide to Faucets.
You're sure to enjoy browsing an extensive range of innovative modern bathroom sinks, but be careful to make the right choice – your bathroom sink really is one of the most important fixtures in your entire home.
https://wpcdn.usa.hudsonreed.com/info/blog/wp-content/uploads/2017/02/bas029_lifestyle_1000-1.jpg?strip=all&lossy=1&quality=100&ssl=1
1000
1000
John Klee
https://wpcdn.usa.hudsonreed.com/info/blog/wp-content/uploads/2018/04/hr-blog-logo-300x138.png
John Klee
2017-03-20 09:34:08
2019-04-11 09:32:42
The Many Different Styles of Modern Bathroom Sinks