Some of the Best Downstairs Bathroom Ideas
As a regular port of call for guests and a key area in many a home, the downstairs bathroom is usually one of the most compact rooms in the entire property. But that doesn't detract from its importance. Homeowners are rightly always looking to maximize the potential of this smallest of spaces and add a touch of class to the room. This article will list some of the best downstairs bathroom ideas to help you make the most of what is likely to be a relatively miniscule area of your home.
How to Maximize Downstairs Bathroom Space
Regardless of how small your downstairs bathroom is, these helpful tips will put you on course to really make the most of the space.
Opt for space saving fixtures and furniture
Add a splash of color
Bounce around light using mirrors
Select decor to suit your style
Keep clean and organized with bathroom vanities
There are plenty of options in terms of space saving fixtures for downstairs bathrooms.
Combination toilet and sink units are ideal for compact areas. They cleverly team together a toilet and sink, enhancing space whilst delivering an ultra-stylish appearance as well. All accompanying pipework and plumbing is concealed from view to make for a neat and tidy finish.
Diminutive corner sinks are another fixture to consider, in addition to wall mounted toilets. The latter designs really help to make the most of the space and create the illusion of a bigger room.
Small and slimline bathroom vanities are designed specifically to suit small rooms. A wall mounted vanity unit is perfect for enhancing floor space, and will also greatly simplify cleaning. Furthermore, it offers an ideal storage spot for the likes of toiletries and cleaning amenities.
To further maximize a sense of space, lighter colors are worth considering. Similarly so, wallpaper with bold patterns is perfect for adding excitement and an impactful feel to the room. Wallpaper's great for creating a fun impression, so don't be afraid to use pattern or bold, vibrant lighter colors within the downstairs bathroom. As the room is likely to be small, you won't need to break the bank whatever type of wallpaper you choose, given that you won't require many rolls of it.
If you want to introduce a personalized interior scheme to the bathroom, you could even decide to convert a family album into photo collage wallpaper.
For rooms with sloping ceilings especially, wallpaper is an excellent choice. It proves a lot less troublesome to fit against the slope in comparison with tiles.
So don't hold back – go for a standout selection when choosing your downstairs bathroom color scheme.
In smaller bathroom spaces especially, mirrors are a near essential commodity. By positioning a mirror sensibly, you can fix almost any interior design conundrum. You can massively enhance a sense of space by bouncing light around the room.
For instance, placing a big mirror at the end of a small downstairs bathroom creates the illusion that the room span is far greater than it is. If you wanted to add an eye-catching decorative element to the space, a large ornate mirror is a viable option.
How to utilize mirrors in small bathrooms
A clever interior design trick is to install a floor length mirror behind some furniture in a compact space. With a mirror measuring the same width as the specific furniture, it will seem a prominent and purposeful feature as opposed to a crammed-in afterthought. It will also catch the eye and further enhance a light and bright bathroom ambience.
If your budget can't accommodate a larger mirror, multiple smaller mirrors are a superb alternative. Components of the same colored frames can be grouped together in the same space on the wall. That will create an organized, clutter-free vibe within your downstairs bathroom.
Heating a Downstairs Bathroom
In addition to considering the style factor of your downstairs bathroom, you also need to make sure it retains a warm and welcoming ambience in the colder months of the year.
Thankfully, the stylish array of compact heating options from Hudson Reed USA makes it possible to enhance aesthetic appeal with a functional heating solution. Our extensive selection of towel warmers and designer radiators incorporates a variety of models ideal for a small downstairs bathroom area.
Given the limited space it will occupy, a towel rack might prove the best option. But it is imperative to check the BTU output of any potential purchase, to make sure it is adequate to sufficiently warm the space up.
Supplied in a range of sizes and styles, heated towel warmers are certain to deliver style and practicality to any modern or traditional downstairs bathroom.
Electric underfloor heating is another option to consider in a compact bathroom. By opting for this as a main heat source, the layout of your room becomes far easier to plan. This is as you don't have to imagine where to position your radiator, and it also leaves you with more available wall space for storage.
However, electric underfloor heating can prove quite expensive, and cause obvious disruption to your flooring setup. Therefore, it might be a better idea to stick with smaller radiators or hydronic towel warmers in a downstairs bathroom.
Downstairs Bathroom Decor to reflect your style
Sometimes, without even realizing, you can fall into the trap of creating a downstairs bathroom space with a neutral feel, and one lacking in personality. Really though, your downstairs bathroom should be an area that reflects your overall style outlook.
There's the opportunity to introduce artwork or pictures to the space. Or you could opt for an unusual mirror design to dominate the wall space. Furthermore, you can add accessories and other decorative elements that line up with your personality and stylistic leanings. Dot some 'out-there' features around the room to create a conversation piece amongst any guests to your home.
If you're a fan of nautical nuances, a porthole mirror is an excellent choice. Even better teamed with natural textures, seashells and coastal colors. A distressed beach sign could make for a perfect accentuating touch as well. You'll create a beautifully authentic look whilst being reminded of fun holiday times every time you enter the room.
Floral wallpaper is a viable alternative if you'd like to create a retro appearance, or you could simply choose to extend the theme running elsewhere in the home.
Or, another option is to create a downstairs bathroom appearance that relates to your favored hobby or sport. For instance, football fans could prime their wall space with NFL memorabilia and images of their favorite players or moments. You could even opt for patterned wallpaper reflective of a sport you enjoy to complete the look.
Although simple on the surface, these ideas can add a great level of personality to your downstairs bathroom.
Clever storage solutions are essential for making the downstairs bathroom area feel a lot more spacious. The downstairs bathroom is often the favored location for shoes and coats to be dumped in. As such, it's imperative to think carefully about storage solutions for this space. The likes of shoe racks and coat hooks are perfect, but you'll likely need diminutive versions to fit the space. And as obvious as it sounds, only actually consider these if you do tend to ditch your coats and shoes in the space a lot. Otherwise, you're creating more clutter.
Look to make the absolute best use of your available wall space possible. You can do so by adding shelving and a cupboard for the housing of toiletries and other essentials.
Mirrored cabinets and other storage units are well worth considering also, and can play a big part in keeping your downstairs bathroom clean and organized. Something like the Langley 16" Gray Wall-Mount Bathroom Vanity is perfect for a small downstairs bathroom. It combines a sink, shelving and internal storage in the form of one compact unit.
Extra points to consider for a Downstairs Bathroom
There's some extra points to consider for a downstairs bathroom renovation – we've listed some key elements here…
Your current plumbing setup and the amount of available space will play the biggest role in deciding whether a downstairs toilet installation beneath the staircase is possible. It sounds obvious, but you need to make sure you have adequate space to fit the toilet and for it to be usable in relation to surrounding fixtures and fittings.
The minimum space requirement for a comfortable downstairs toilet and sink installation is 31.5″ x 55″
Be sure to consider the space required to allow for the door to open. The best choice is a door that opens outwards. A sliding door is an excellent space-saving alternative if that design is more feasible.
The floor will need to be lifted so that hot and cold supply pipework can be connected to the toilet and sink.
Excessive waste water from the sink and toilet should run downhill in a rather straight line to the closest soil stack, which is usually situated outside the home.
Good lighting is key to a small room, particularly so if there isn't a window present. Recessed spotlights are a great option to provide a neat finish that will brighten the downstairs bathroom no-end.
Downstairs Bathroom Inspiration from Hudson Reed USA
Hopefully, you've drawn all the inspiration you need from this piece to create a beautiful downstairs bathroom area. If you would like any further help with your downstairs bathroom refurbishment, please don't hesitate to contact us. You can get in touch via our website, or call our friendly team on 1-877-778-8460. Happy downstairs bathroom shopping!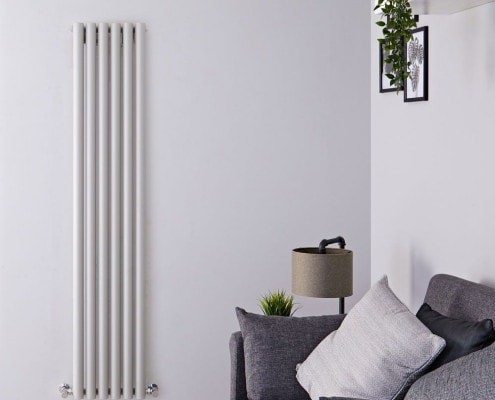 https://wpcdn.usa.hudsonreed.com/info/blog/wp-content/uploads/2019/12/savysilverradvertical.jpg?strip=all&lossy=1&quality=100&ssl=1
1000
1000
John Klee
https://wpcdn.usa.hudsonreed.com/info/blog/wp-content/uploads/2018/04/hr-blog-logo-300x138.png
John Klee
2020-01-14 10:48:15
2020-01-14 10:48:15
Frequently Asked Radiator Questions Answered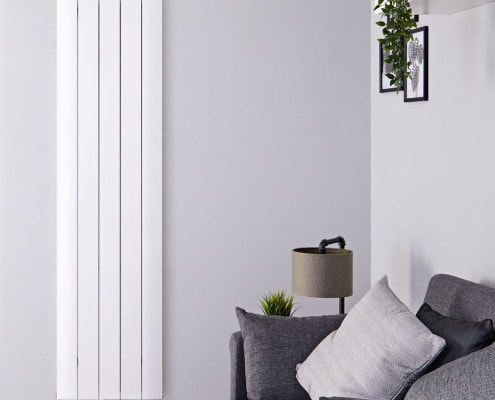 https://wpcdn.usa.hudsonreed.com/info/blog/wp-content/uploads/2019/11/aurorawhitealuminumverticalrad.jpg?strip=all&lossy=1&quality=100&ssl=1
1000
1000
John Klee
https://wpcdn.usa.hudsonreed.com/info/blog/wp-content/uploads/2018/04/hr-blog-logo-300x138.png
John Klee
2020-01-13 07:02:15
2020-01-13 07:02:15
How to remove Convector Radiators for Decorating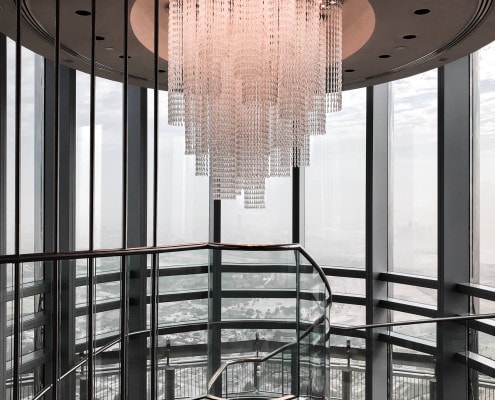 https://wpcdn.usa.hudsonreed.com/info/blog/wp-content/uploads/2019/12/modernchandelier.jpeg?strip=all&lossy=1&quality=100&ssl=1
2250
1688
John Klee
https://wpcdn.usa.hudsonreed.com/info/blog/wp-content/uploads/2018/04/hr-blog-logo-300x138.png
John Klee
2020-01-08 03:50:59
2020-01-08 03:50:59
10 Easy Ways to Improve your Home Appearance