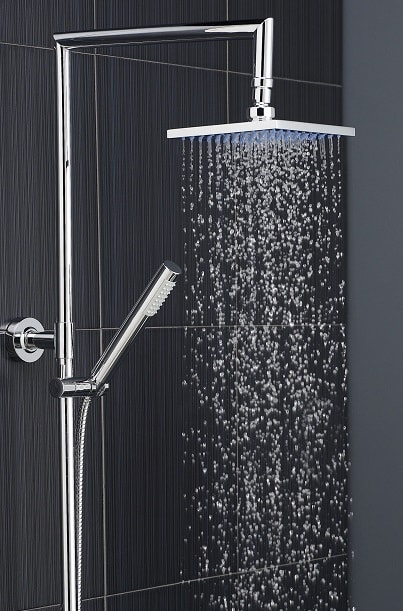 A top quality shower system is a necessity for any bathroom or en-suite – so no matter whether you're starting from scratch, or updating your existing fixtures, it is vital to educate yourself before selecting your shower head and arms, as well as shower valves and everything else required to make up your full enclosure. Choosing the perfect shower head and arms in particular may initially seem a simple task, but there are actually several important factors to consider before deciding on your investment. In this article, we'll explain the features you need to be looking out for to ensure you make the right choice for your space specifically. Another useful resource in this regard is our Ultimate Guide to Showers.
Choosing the correct type of Shower Kit
When shopping for shower heads and arms, the first thing to consider is where your choice(s) will eventually be located. You'll need to decide between wall mounted shower heads or a ceiling mounted shower head, and for bathrooms with existing plumbing in place, your mind is likely to be made up for you. Or, you could even be upgrading your garden area with an outdoor shower system (more details in our Ultimate Guide to Outdoor Showers). If you're intending to install a new plumbing system or are starting from the very beginning in terms of updating your fixtures, your personal preference can ultimately determine which type you'd like.
From there, you need to think about the distance you want the shower head to project, and thus the angle it is positioned at. If opting for a ceiling shower head in a room with a low roof, you should pick a mount that is as close as possible to the valve. Always remember that the height and projection of the shower head, which will be adjustable in some cases, should be suitable for any and all potential users of the shower faucet.
Ceiling mounted shower heads tend to offer more versatility in terms of design and output, with the likes of rainfall effects stemming from such components. But whilst wall mounted shower heads tend to offer a 'flat flow' heading straight down from above, they arguably offer more flexibility in terms of their range and positioning, considering they often come supplied complete with shower arms or wands. These attachments allow the user to manoeuvre them in any way they wish, which is especially useful for targeting specific body parts during showering.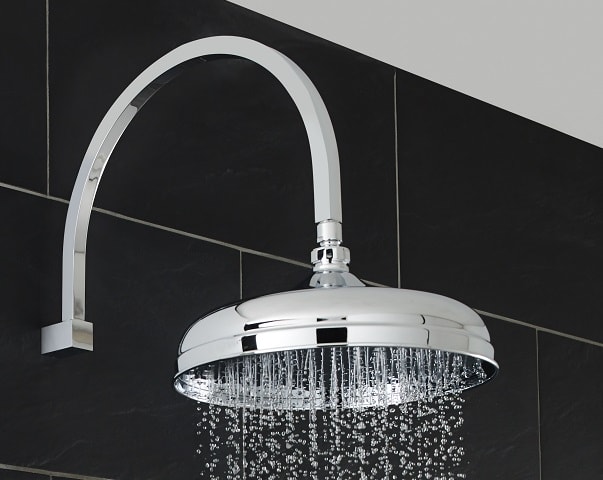 Finding the right Shower Head Shape and Size
Shower heads typically provide a maximum flow rate of 2.5 gallons per minute (gpm), and understanding your specific shower head's flow rate is essential in locations where pressure is regulated, such as California, and in homes with low water pressure. For such properties, aerated shower heads are frequently recommended, given their ability to boost pressure without using extra water, but a colder supply is a regular by-product. As such, low flow shower heads are the best possible choice; they ensure regulations are met without compromising in terms of temperature. Hudson Reed USA offer a full collection of low flow shower heads in a wide range of stylish designs.
And when opting for a low flow shower head, you can also choose your ideal spray pattern – jets, rains and mists are just some of the available options, and you can select between softer, more timid flows or invigorating, higher pressure sprays. Multifunction shower heads are a perfect choice for those who like to enjoy a different style of showering experience from day to day or week to week.
https://wpcdn.usa.hudsonreed.com/info/blog/wp-content/uploads/2017/07/kubix-triple-shower-crop-1.jpg?strip=all&lossy=1&quality=100&ssl=1
1019
694
John Klee
https://wpcdn.usa.hudsonreed.com/info/blog/wp-content/uploads/2018/04/hr-blog-logo-300x138.png
John Klee
2017-07-28 03:36:57
2019-07-23 06:56:01
Selecting the right Shower Heads and Arms for your Bathroom