The bathroom is always a prime area for home renovation work, and even if your space is relatively small, there is no reason you can't create a stylish haven in which to relax and unwind after a long and stressful working day. There are several ways that you can maximize space in your bathroom or en-suite, and plenty of fixtures you can add to even just provide the illusion of added space, whilst keeping your décor looking stylish and up to date too. From minimalistic bath accessories to corner bathtubs, mirrors and much more, there are several key elements that will improve the aesthetics and functionality of your compact bathroom, all the while enhancing the space within it.
Add Contemporary Flair
By adding even the most understated of items such as modern bathroom accessories, you can inject a sense of contemporary flair into a small bathroom, and achieve a more balanced overall appearance than would perhaps be possible in larger or more traditional looking areas. Nothing too far out of the ordinary is necessary; a simple white bathroom suite accompanied by chrome bathroom accessories would deliver an attractive contemporary look. There's more inspirational color options to be found in our 10 Timeless Bathroom Color Ideas blog, meanwhile.
Combine a Bath and Shower System
Though somewhat obvious, it is well worth outlining that a bath and shower system combination can prove an easy means to opening up the space in a small bathroom, and a more affordable solution in negating the need for two separate components. Freestanding tubs are available in a variety of designs including square, corner and P-shape, so you can select the option which best suits your layout.
Choose Large Tiles
Installing large tiles will ensure that fewer grout lines show up, and with that considered, their addition can also help in creating a more spacious look.
Opt for Massive Mirrors
Opting for a large mirror is one of the best ways in which you can deliver the illusion of space in a bathroom, with the reflective surface bouncing light all the way throughout the room. A mirror is an essential bathroom fixture, and for smaller bathrooms in particular, the bigger the better. You could even go for a mirrored cabinet, which incorporates more useful storage space to help keep your bathroom neat and tidy.
Select Wall Hung Furniture
Selecting the likes of a wall hung toilet and sink will enable you to take advantage of extra floor space and keep your bathroom essentially free from clutter. Bathroom vanities can also help in this regard while providing valuable storage room. Maintenance and cleaning is also much easier for these types of toilets and sinks.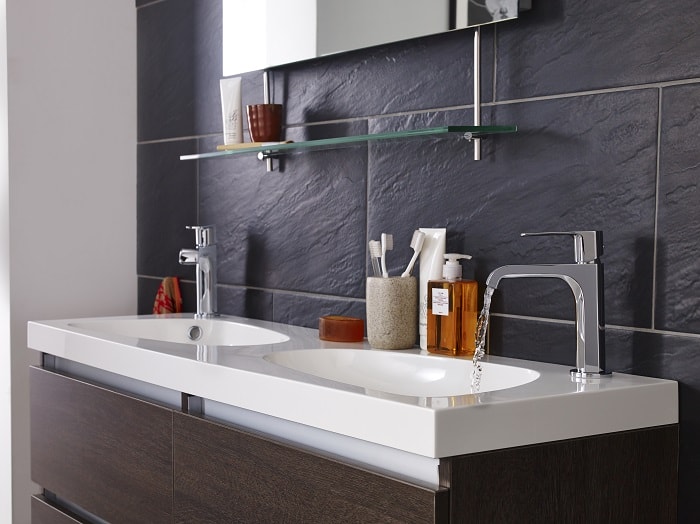 Understated Accessories
As aforementioned, you don't need to think too far outside the box in terms of choosing the right accessories to give your bathroom an ultra-modern look. Understated bath accessories consisting of glass and chrome will provide clean lines, helping to create a sleek, streamlined appearance for your compact bathroom. Even luxury bathroom sink faucets or tub faucets can have an eye-catching effect on your bathroom area. Take a look at our Ultimate Guide to Faucets for some inspiration in this regard, or for a closer look at a specific type, our Ultimate Guide to Tub Faucets.
A Contemporary Compact Bathroom Look
You can definitely achieve a beautiful contemporary bathroom look no matter what the size of the area; adding just some of the luxury bathroom products listed here will help to maximize space and deliver a stylish modern appearance that will stand the test of time. Be sure to browse thoroughly online and in local home improvement stores before deciding on your fixtures – there is a huge variety of different colors and designs on the market.
https://wpcdn.usa.hudsonreed.com/info/blog/wp-content/uploads/2017/05/sharprectanglebathtubmoderndesign.jpg?strip=all&lossy=1&quality=100&ssl=1
770
620
John Klee
https://wpcdn.usa.hudsonreed.com/info/blog/wp-content/uploads/2018/04/hr-blog-logo-300x138.png
John Klee
2017-05-19 09:32:20
2019-08-09 08:33:08
How to make the most of a Small Bathroom Space