Gray Bathroom Ideas for a Stylish and Sophisticated Look
Gray bathrooms can no longer be considered a mere passing trend. For several years now, gray has proven a popular bathroom color choice, and this only looks likely to continue in future. Hardly the most eye-catching of shades, but certainly not boring either, a gray bathroom color scheme is a classic interior option. There's a vast array of different shades to decide between, so you can find a style to suit any preferences or requirements. From dark slate to light marble and everything in between, there's a perfect option to make any sort of style statement you want to.
A gray bathroom color scheme will deliver a calming ambience to the space. That's exactly what you want from somewhere you'll spend a significant amount of time in every day. Furthermore, it can match up superbly with loud, brighter colors such as pink. (See our piece on 10 Timeless Bathroom Color Ideas for more on that). It is also an ultra-practical bathroom color choice for both modern and traditional spaces.
If you're keen to join in on the gray bathroom color trend, but aren't certain how to achieve the appearance, this article can provide you with suitable inspiration to get the job done.
Add Modern Impetus with Gray Bathroom Furniture
You can add a definite modern impetus to a bathroom area with the purchase of gray bathroom furniture. The likes of gray vanity units are ideal for creating a chic look. They provide an excellent alternative to gloss white and mesh supremely well with bold contrast colors such as shocking pink.
Our full collection of bathroom vanities includes an impressive choice of gray furniture in many styles and sizes. For an injection of modern flair, our Langley vanity units are a standout option. The Langley 16" Gray Wall-Mount Bathroom Vanity is an ultra-contemporary compact option that will be especially well suited to smaller bathroom or en-suite areas. The space-saving design incorporates a streamlined sink and faucet. There's also extra integrated storage room for bathroom essentials.
The selection of Charlton bathroom vanities on offer from Hudson Reed USA also features a range of gray and anthracite bath vanities. These incorporate more of a vintage vibe in comparison with our alternative collections. The Charlton 47" Anthracite Traditional Bathroom Vanity is one of our bigger bathroom furniture offerings. It's a great pick for a larger bathroom. With a ceramic double sink and marble-effect finish, the unit offers excellent functionality for a family bathroom in addition to classy, elegant style.
A more minimalist version comes in the form of the Charlton 16" Anthracite Traditional Storage Cabinet. There's no sinks or faucets attached to this unit. The included drawer and shelving offer adequate storage room for the likes of towels and toiletries. A tempting option for bigger and smaller bathrooms alike, the unit can be mounted to the wall, opening a world of design possibilities.
Go for a Gray Bathtub Feature
A quick and easy means for adding a touch of gray to your bathroom is to attach a gray panel to your bathtub. This will provide the space with an instant upgrade. Bathtubs are supplied in an array of styles and sizes, so you need to ensure you record accurate measurements when selecting a gray panel. And if it's a freestanding bathtub design that isn't installed between two walls, you might need to invest in an end panel as well.
Matching up a gray bath panel with a bathroom vanity unit of the same color can bring a coordinated appearance to the bathroom. It will really help to knit the overall look together.
Select a Gray Slate Effect Shower Tray
A gray slate effect shower tray represents an excellent alternative to a simple white tray. An ideal option to add a natural aura and a spa-like feel to your bathroom, light gray slate effect shower trays are available in an array of sizes and shapes to enhance any enclosure. Usually measuring around 1.2 inches or less in height, they offer a neat, streamlined look and boast an attractive lightweight profile. Slate effect shower trays tend to weigh less than their standard stone resin counterparts, in fact. They're easier and safer to install as such.
If a darker shade of gray is your preference, a granite slate effect tray is a superb choice. Another component with a durable and lightweight construction, the granite slate effect tray features the same manufacturing properties as other gray slate trays. Each are made from sheet molding compound, which is essentially a ready-to-mold glass-fiber reinforced polyester material.
Toasty Warm Towels with Gray Heating Solutions
Gray, anthracite or dark gray heating solutions are sure to add designer flair to a gray bathroom color scheme. They offer an ultra-stylish substitute to the likes of white and chrome heating options. Hudson Reed USA provide a fantastic choice of anthracite towel warmers. Supplied in a variety of sizes and designs, they all incorporate an attractive but practical design to help keep your towels toasty warm. We also offer a superb selection of electric towel warmers, which are operational even in the absence of a central heating system. Underfloor heating is another installation prospect even alongside a heated towel rail. This will ensure your bathroom stays warm and welcoming even during the colder winter months.
A more obvious way to make a style statement with home heating is to opt for an anthracite designer radiator from our premium quality radiator collection. There's all sorts of modern and classic radiators in varying shades of gray. Even our traditional Regent anthracite radiators will enhance a contemporary space. There's horizontal radiators and vertical radiators available in gray hues too. So all in all, you can be sure to find a moderl well suited to your specific bathroom layout.
If a gray bathroom theme is forming, the bathroom flooring should follow suit, in theory. Gray bathroom tiles will assist in creating a stylish modern bathroom environment. There are plenty of different gray tiling designs including stone effects and metro tiles. Opt for darker shades of gray tiles for a look of luxury, or brighter tones for a lighter feel. Or, if you want to introduce a particularly bold design feature, select two contrasting shades of tile.
Glossy gray tiles are the best option if you want to maximize a sense of space. They must be considered in smaller downstairs bathroom areas or en-suite spaces.
Gray Bathroom Paint Ideas
The use of paint is one of the easiest means for creating or enhancing a gray bathroom color scheme. It will transform the look of the space in no time at all too. If you want other colors to stand out within the bathroom, it is best to select a dark slate gray shade. And if you aren't keen on the idea of painting the entire bathroom, try and limit the use of gray paint to a single wall only.
For bathrooms with tongue and groove cladding, these can be painted in a shade of gray to provide an easy and efficient bathroom color upgrade.
Of course, bathroom paint isn't the only necessary vice to instigate a gray bathroom color scheme. Tiling or wallpaper including a graphic print are alternative options. Especially in more compact bathroom spaces, the addition of pattern designs will make a significant instant impact on the area.
Having a smaller bathroom doesn't mean that bold pattern prints are a no-go, either. You might be better served limiting the pattern to a single wall or the floor, depending on how loud you want the room to look. If it's bolder the better for you, then opt for a contrasting pattern on the walls and the floor.
A soothing ambience is associated with dark gray tones. As such, that shade is perfect for creating a relaxing area. But it can be further enhanced with the addition of pops of color such as pink or green.
Selecting a bright supporting color will guarantee a striking standout look, and there is a plethora of ways to implement your choice. Bath mats, towels, accessories and pictures and paintings are just some examples of ways to easily add color to your bathroom.
The best colors to team with a predominantly gray color scheme are:
Green
Pink
Yellow
White
Navy
Teal
Coral
If plain white fixtures and fittings mainly accompany a dark gray shade, the room could appear a tad stark. For a classier, more subtle look, the introduction of pale marble can work wonders. Real marble is an expensive commodity, of course, so might not be a suitable option within your budget. But there are some cheaper marble design alternatives to explore. Perhaps the installation of a porcelain, marble-effect sink can do the trick, or the addition of tiles of the same make-up. There's also marble bathroom accessories to provide a more diminutive sense of elegant appeal. Opting for gold fittings like luxury faucets would also enhance a majestic marble aesthetic.
You might be concerned about selecting gray as your dominant bathroom color scheme. If so, don't worry, there are other, less 'in-your-face' methods of including the color. Gray towels, bath mats, candles and accessories can al be used to introduce different shades of gray to the space on a lower scale. In adding this type of fittings, you can gain an idea of what a gray bathroom color scheme would look like without making wholesale changes. The last thing you want to do is shell out on gravy bathroom paint and tiles before deciding you aren't as keen on the idea as you might have imagined.
Going Gray for a Stylish Bathroom Color Scheme
As detailed, there's lots of ways to go gray in your bathroom anc achieve an ultra-stylish look. Ultimately, how much of the color that is introduced to the space is down to your personal preferences and requirements. You can decide on a full bathroom color scheme revamp with gray paint and tiles. Or, if you want to add a more subtle touch of gray, you can opt for fixtures and accessories and the like.
Hopefully, you've found the exact inspiration needed to introduce the gray bathroom ideas you want to your space in this article. Be sure to visit Hudson Reed USA to explore a superb selection of luxury bathroom products to accentuate and enhance a gray bathroom color scheme.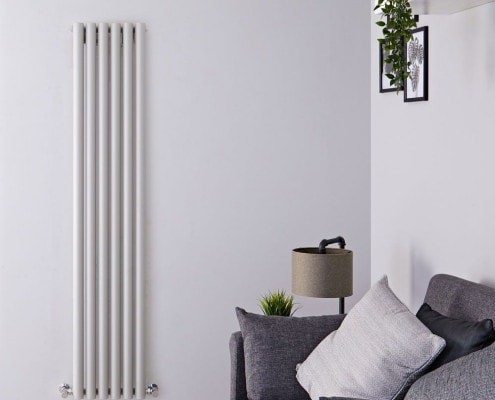 https://wpcdn.usa.hudsonreed.com/info/blog/wp-content/uploads/2019/12/savysilverradvertical.jpg?strip=all&lossy=1&quality=100&ssl=1
1000
1000
John Klee
https://wpcdn.usa.hudsonreed.com/info/blog/wp-content/uploads/2018/04/hr-blog-logo-300x138.png
John Klee
2020-01-14 10:48:15
2020-01-14 10:48:15
Frequently Asked Radiator Questions Answered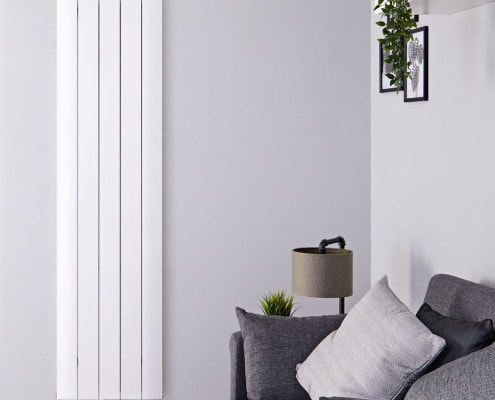 https://wpcdn.usa.hudsonreed.com/info/blog/wp-content/uploads/2019/11/aurorawhitealuminumverticalrad.jpg?strip=all&lossy=1&quality=100&ssl=1
1000
1000
John Klee
https://wpcdn.usa.hudsonreed.com/info/blog/wp-content/uploads/2018/04/hr-blog-logo-300x138.png
John Klee
2020-01-13 07:02:15
2020-01-13 07:02:15
How to remove Convector Radiators for Decorating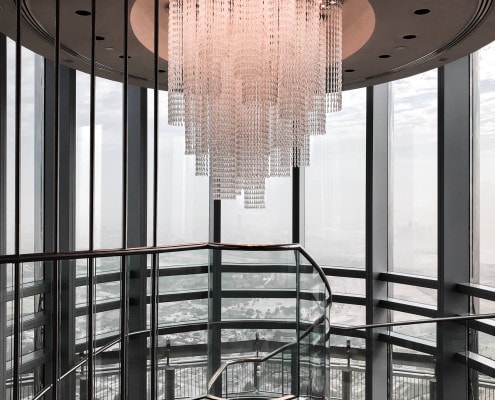 https://wpcdn.usa.hudsonreed.com/info/blog/wp-content/uploads/2019/12/modernchandelier.jpeg?strip=all&lossy=1&quality=100&ssl=1
2250
1688
John Klee
https://wpcdn.usa.hudsonreed.com/info/blog/wp-content/uploads/2018/04/hr-blog-logo-300x138.png
John Klee
2020-01-08 03:50:59
2020-01-08 03:50:59
10 Easy Ways to Improve your Home Appearance