Shower Faucets: 5 Choice Tips
For several homeowners, the acquisition of shower faucets could be somewhat of an afterthought; as long as the component functions properly, that will be enough for many. However, this approach far underestimates the importance of shower faucets, and the effect they can have on a space both from an aesthetical and functional perspective. You might even want to add an outdoor shower to your property – there's plenty more information to be found on these in our Ultimate Guide to Outdoor Showers. There are plenty of factors to consider before coming to your final decision, and this guide will aim to explain everything you need to know to make an informed shower faucet choice for the benefit of your home, and your own personal lifestyle. Another useful resource to help you select the perfect shower faucet is our Ultimate Guide to Showers, meanwhile.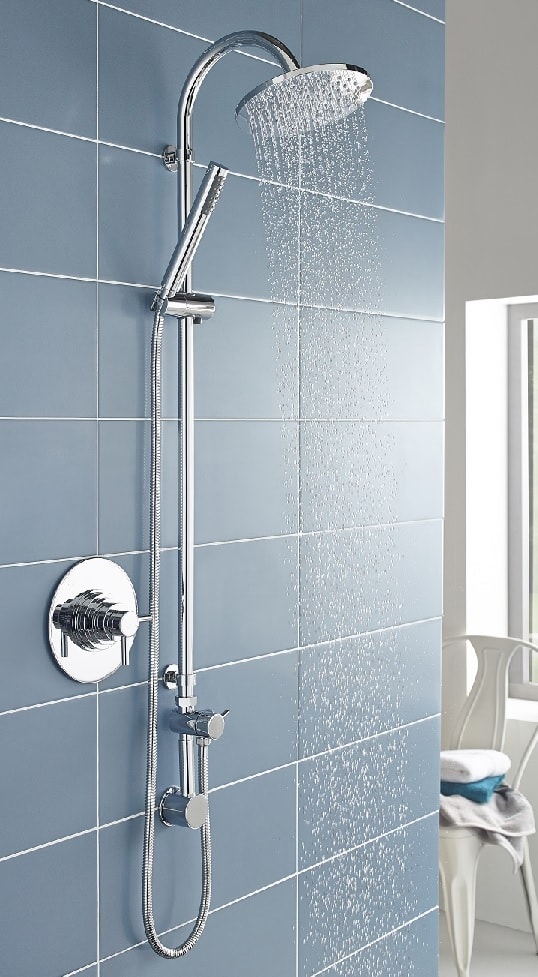 1. Shower Faucet Material
Initially, the first thing to think about when sourcing new shower faucets is the material that they consist of. And as with the vast majority of luxury bathroom items, you definitely get what you pay for. Therefore, with solid brass offering the best level of durability in addition to a classic look, it is typically the most expensive option. Cheaper, and often more popular shower faucet plumbing types tend to come in the form of copper, iron and aluminum, but whilst it may be tempting to cut costs by sourcing lower quality materials such as the latter mentioned, adopting this method can lead to spiraling outlays in the future. Of course, having to regularly replace shower faucets or commit to extra plumbing work is bound to stretch your budget, so it is worth weighing up the contrasting prices of brass shower faucets in comparison with their lower quality counterparts. Hudson Reed USA's shower faucets exclusively feature a solid brass construction, but still remain available at a superb value cost.
2. Shower Faucet Type
There are two main general types of shower faucets on the market, so you'll need to consider which style is best suited to your bathroom and available space within it, as well as your personal preferences. The first kind is simply positioned above the drain and may allow for minimal alterations, with the second type more representative of a typical modern shower faucet set. This latter sort will usually rest on a surface when not in use, and is supplied with an adjustable handle that can be moved along the body, as well as a mobile shower head that will deliver the stream of water over your full body. A moving wand is also included with these more contemporary bathroom faucets, which will allow the user to target a specific area of the body by utilizing the spray of the shower head – this ultimately delivers a far more complete showering experience that will leave you feeling refreshed from head to toe.
3. Shower Faucet Controls
And thermostatic controls are another essential element to factor into your choice, no matter whether you're shopping for shower faucets, kitchen faucets, or any other type such as bathroom sink faucets. Traditionally, and still quite prominently today, shower systems include a single handle that will not allow the user to combine hot and cold temperatures, instead offering only a strict, defined contrast between the two. And whilst these single lever controls will typically offer an easier installation process, they can prove troublesome for anyone overly sensitive to heat and cold. Modern controls are a more favorable option, providing the user with the opportunity to select a mixture of hot and cold water to find a temperature that is "just right". And for an ultra-contemporary look, you should add a digital thermostatic display to your modern shower faucet if your budget will allow it. Delivering a standout look and undoubtedly easy to use, these panels enable the user to set their shower water to a specific temperature as and when it is in operation. The shower will even remember a range of set temperatures to action at a particular time or in certain circumstances, so you can always be assured of a customized showering experience that matches up with your exact needs.
4. Shower Faucet Style
Of course, the design style of your shower faucet is another prominent factor to consider; your existing bathroom decor will often go a long way to dictating the sort of look you'll opt for, as well as aforementioned elements such as thermostatic controls. For example, you're unlikely to choose an antique style faucet to team with a digital display – a sleek, contemporary chrome faucet would be a far better option. And the actual component the faucet will be teamed with is sure to influence your decision also; vintage tub faucets or classic Roman tub faucets would be an appropriate choice to accompany a traditional freestanding tub, whereas modern shower faucets would be much better suited to sleek, contemporary shower enclosures. For further information on the former styles, take a look at our Ultimate Guide to Tub Faucets. Our Ultimate Guide to Faucets also touches on some of the best faucet designs available to suit your specific needs.
5. Shower Faucet Practicality
As your investment in a shower faucet is likely to be relatively significant to say the least, you'll want to ensure that your choice guarantees a comfortable and enjoyable showering experience. That said, you should consider all sorts of different faucet shapes, with many people tending to prefer options that have the scope to target those hard-to-reach areas. In addition to the size and rigidity of a faucet, the likes of massage controls and features are other factors to think about, especially if you're looking for a more well-rounded faucet that delivers a performance stretching beyond the meaning of basic practicality.
Your Final Shower Faucet Decision
This article has aimed to highlight a wide range of elements that must be considered before you reach your final decision on the right shower faucets to suit your needs and preferences. And whilst our shortlist of factors shouldn't be seen as a be all and end all guide to choosing the perfect shower faucet, it can definitely help you to form the basic foundation of an idea of the best option for you. By combining careful thought and research with a consideration of external factors such as the layout and existing decor of a bathroom, you'll be able to come to a final shower faucet decision that is sure to enhance your space, and one which you won't regret.
https://wpcdn.usa.hudsonreed.com/info/blog/wp-content/uploads/2016/06/ways-to-keep-cool-in-summer.jpg?strip=all&lossy=1&quality=100&ssl=1
600
600
John Klee
https://wpcdn.usa.hudsonreed.com/info/blog/wp-content/uploads/2018/04/hr-blog-logo-300x138.png
John Klee
2017-07-06 03:07:44
2019-07-23 07:08:56
Five things to consider when shopping Shower Faucets