Despite steadily rising in popularity over the course of the past few years, shower seats are still not considered an essential fixture in the majority of American households. But the many advantages associated with their installation means they should be readily considered by anyone looking to add a sense of style and functionality to their bathroom. In this article, we'll explain the several ways in which your bathroom can benefit from the addition of a shower seat, and which type of component you should opt for as a standout shower enclosure feature.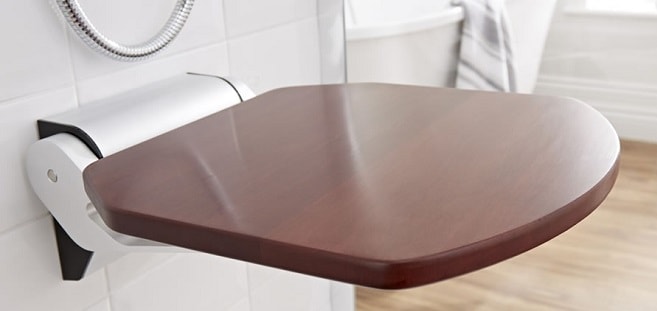 Resting and Relaxing with a Folding Shower Seat
First and foremost, the rest and relaxation that a folding shower seat in particular can provide, make them an ideal choice for those who enjoy indulging in a long and luxurious showering experience. A fold down shower seat can help to transform your shower enclosure into a spa-like environment, and offer a comfortable seating area as and when required, and tuck back against the wall when not in use. Folding shower seats are amongst the most versatile types on the market, and often feature minimalist chrome details that will complement any surrounding shower enclosure.
Stylish Shower Seat Designs
As well as folding shower seats, there are all kinds of stylish shower bench designs available, including those that can be in-built into a bathroom. Solid shower benches can be installed from the ground level of a shower enclosure, with their reach and height obviously eating in to some of the area's available space. However, some of these type of shower seat designs actually offer an extra storage facility, incorporating a flip-top lid and internal storage room. These kind of benches are perfect for keeping essential bathroom supplies in, such as shower gels, shampoos and lotions. This type, perhaps more than any other style of shower seat, can really transform the overall appearance of a shower enclosure, enhancing your shower system, and even the entire bathroom as a whole. Meanwhile, if you're looking for inspiration regarding choosing your ideal shower system, be sure to consult our Ultimate Guide to Showers.
Choosing the right Shower Seat Finish
Particularly with in-built shower seats or benches, the finish is likely to reflect or even exactly match the decor of the shower enclosure it is featured in. But for a completely fail-safe choice, a teak shower seat is advised. Teak wood shower benches are amongst the very most popular styles for sale, unsurprisingly so considering the impressive combination of aesthetics and durability they provide. A teak shower bench is sure to mesh well with both modern and traditional surroundings, and offer an impressive, long-lasting performance as well as a standout appearance.
Perhaps the most favorable aspect of choosing a teak wood shower bench then, is its ability to seamlessly blend with all kinds of decor and fixtures such as bathroom faucets. They can improve the look of any bathroom regardless of its color, tile style or flooring. In fact, areas featuring wooden-effect flooring are perhaps the absolute best setting in which to install a teak shower seat, with darker surfaces complementing the bench to an even greater extent. Hudson Reed offer an impressive selection of shower seats with teak and bamboo finishes.
A practical Bathroom addition
In addition to delivering impressive style, shower seats also represent a practical bathroom addition, serving an obvious primary function of allowing the user to sit down in the shower. For many, this luxury is purely for relaxation purposes, in which instances the shower bench will be used to create a spa-like atmosphere. But for others, the installation of a shower seat or bench is an absolute necessity with regards to mobility. A person with an injury can use the shower without needing to stand, whilst wheelchair users can utilize the seat to safely transition from their wheelchair into the shower, exemplifying a shower seat as an essential component for accessibility. Fold down shower seats, aforementioned in this article, provide a simple and easy way to enjoy the benefits of a shower bench without having to subject your bathroom to an extensive remodel. The vast majority of folding shower seats can be attached to an existing shower enclosure.
You can even fit a shower seat within an outdoor shower enclosure, should you wish to opt for a relatively high-end design. For more insight into that notion, take a look at our Ultimate Guide to Outdoor Showers.
And the convenience a shower bench offers is another major advantage. For the likes of simple, mundane tasks such as drying your toes and feet or shaving your legs, a shower seat can make these showering exertions far easier and more comfortable by offering a space to rest your feet or personal grooming equipment. A shower bench is also a perfect addition for a family home with one or more toddlers, as the children can simply sit down in the shower to ensure a far quicker, hassle-free process.
https://wpcdn.usa.hudsonreed.com/info/blog/wp-content/uploads/2017/08/teak-shower-seat.jpg?strip=all&lossy=1&quality=100&ssl=1
856
953
John Klee
https://wpcdn.usa.hudsonreed.com/info/blog/wp-content/uploads/2018/04/hr-blog-logo-300x138.png
John Klee
2017-08-10 07:46:05
2019-07-23 07:05:35
How the addition of a Shower Seat can benefit your Bathroom